Our Contract
RED ROCK KENNEL GUARANTEE

Your Copy will include a Health Record when you pick up your pup.
This puppy, microchip #______________was vet checked by my vet and IT IS REQUIRED that you have the puppy checked within 3 business days of sale. Failure to do so will VOID this contract.MICRO CHIP MUST BE REGISTERED. IF NOT THIS CONTRACT IS VOID.
IF your veterinarian finds a problem that is genetic, or will cause death, the puppy will be REPLACED with another pup as soon as possible, as long as a written statement of his findings and the original pup are returned to Red Rock Kennel within 3 days. My veterinarian must concur with the findings. Red Rock Kennel is NOT responsible for any VETERINARIAN/ HOSPITALIZATION BILLS incurred once the puppy has left Red Rock Kennel.
You are given the AKC Limited Registration Form, a Health Certificate, a Pedigree, Microchip information, a Health Record and instructions at the time of pick up. All of my breeding adults have been CERF eye tested. Your vet can request a copy of the test if warranted.
If this puppy is found to have a genetic problem in the first year of its life, Red Rock Kennel MUST BE NOTIFIED. IF the pup is found dead or must be Euthanized, a neucropsy MUST be preformed by an accredited Animal Hospital and the findings MUST be sent to Red Rock Kennel. Only after that time will Red Rock Kennel determine whether to refund or replace. Red Rock Kennel MUST be notified IMMEDIATELY if the pup becomes ILL or is TRANSFERRED, GIVEN or SURRENDERED to another party. Re-homing this pup DOES NOT relieve you, the purchaser, from the terms of this contract.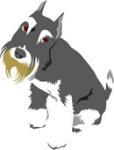 This pup is being sold as a PET with Limited AKC Registration, and if it is found that this pup was bred, YOU will be liable for a $5000.00 fee for breach of contract. This pup is to be spayed/neutered no later that 8 months of age. Failure to do so VOIDS this contract. Initial______________________
This puppy has been microchipped in accordance with AKC rules, it is up to you to register with the Microchip company all information pertaining to your ownership.
Red Rock Kennel DOES NOT GIVE ANY GUARANTEE in regards to size, disposition, coloring, umbillical hernias, retained testicules, remaining dew claws, or show potential, nor does it guarantee the pup to be clear of worms, coccidia or giardia, as these are quite common in puppies and worming should be a routine part of this puppies care.
Red Rock Kennel does NOT guarantee against Hypoglycemia (low blood sugar) as this is NOT a hereditary condition but a result of over handling, under-feeding, poor quality food, or exhaustion from heat or neglect.

It is recommended that you take some time to read up on Hypoglycemia, things that are poisonous to dogs, Miniature Schnauzer diets and look into puppy kindergarten or training classes in your area.

The Buyer understands that many allergy sufferers and asthmatics can not live with some animals, regardless of breed. Red Rock Kennel will not be held responsible if a family member has an allergic reaction that makes life with the pup problematic. Red Rock Kennel will do its best to help you re-home your pup.

No use of PHOTOS taken at Red Rock Kennel or its Web Site can be used on any other web/computer sites without expressed legal consent from Red Rock Kennel.

Red Rock Kennel advises close supervision in regards to over-vaccination of our pups.We recommend that the puppy receive only one shot per vet visit. If you give the vaccination for Lepto, or Corona , this contract will be VOID. PLEASSE CHECK OUT THIS FACEBOOK LINK OF THESE PRODUCTS www.facebook.com/groups/fb.comgroupsnexguardbravecto/?ref=share Yearly boosters are not necessary, A titer should be done to see if the dog requires a booster. Most often they are only necessary after the puppy series, once every 3 to 5 years.
Please note that the Lyme Vaccine DOES NOT prevent the dog from getting Lyme Disease. PLEASE NOTE--DO NOT GIVE THIS PUPPY BRAVECTA, TRIFLEXIS, COMFORTIS OR NEXGUARD. There is plenty of info on the web about the serious side effects of these new drugs. Red Rock Kennel recommends using HEARTGUARD and FRONTLINE PLUS. USING NEXGUARD, COMFORTIS, TRIFLEXIS OR BRAVETCO WILL VOID THIS CONTRACT.

You have been provided with an instruction sheet that provides you with the information needed to raise this pup.
As the BUYER, OR HIS/HER REPRESENTATIVE OF THIS PUPPY, YOU HAVE READ, UNDERSTAND AND AGREE TO THE TERMS OF THIS CONTRACT BY SIGNING BELOW:
______________________________________